The Good, the God and the Ugly
Hi there,
I am Kathy Vallotton, the wife to the incredible Kris Vallotton, mom to 4 beautiful kids, and grandma to 10 grandkids.
You could imagine how fun family gatherings get with this big bunch. I am a Senior Leader at Bethel Church and once upon a time was a business owner with my husband in Weaverville, a small mountain town in California. I love the mountains, outdoors, and hunting – they make me come alive.
Since moving to Redding California, 20 years ago, Kris and I have dedicated our lives to serving Bethel Church and bringing heaven to earth. Over the years we began building the ministry school known as Bethel School of Supernatural Ministry, founded organizations and ministries, planned conferences, ministered to thousands, and now we are both authors.
I've been involved in a lot of the behind-the-scenes at Bethel and in Kris Vallotton Ministries. I am excited to pull back the curtain in a sense and give you a peek into our world.
DOWNLOAD NOW
30 Verses for Conquering FEAR
Download your free PDF and start victoriously conquering the battle of fear & anxiety in your life.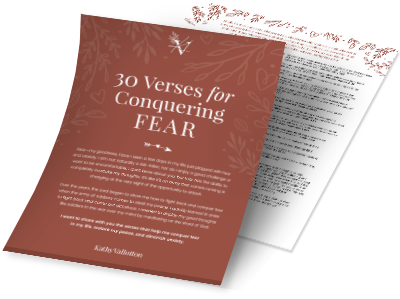 Join Kathy's Courageous Crew
Receive wisdom, tips, and lessons right to your inbox.